Graphic design is not your average book-heavy course or industry. It requires a set of skills as well as a creative mind, one of which is teachable and the other can be enhanced. One way to stay in-the-know about this fast-paced industry is by following awesome graphic design blogs.  Sure, as visual people who prefer pictures over words, reading isn't necessarily the most exciting thing to do. But when it comes to learning the ropes, keeping up with trends, looking for new techniques, and finding inspiration, blogs can be incredibly useful to any graphic designer. Plus, if you won't stay for the text, you can always just pay attention to the images (often original designs) that come along with them. With that, check out these 12 amazing graphic design blogs that are informative, helpful, and definitely won't bore you out of your mind. 
Table of Contents
13 Best Graphic Design Blogs that Speak Your Language
1. Design Wizard
Design Wizard is honestly one of those blogs that come into mind when recommending good resources.  And why wouldn't it be?  Design Wizard is a whole website filled with blogs written passionately about all things design. Aside from giving out great tips and how-to's, some articles also take in-depth looks at trends and styles. They're all simple reads with fresh and new ideas to keep you interested.
We, the Yetis, recommend this awesome read: Mexican Design That Will Blow Your Mind 
2. Adobe Create Magazine
It would be a really big mistake not to include the blog of the mother tool of all graphic designers in this list.  Yes, that's right, from the brilliant minds that brought you Photoshop, Illustrator, and other creator tools, Adobe presents the  Adobe Create Magazine, an up-to-date resource center for aspiring creatives.  The best way to master these essential tools for graphic design is to get help and advice from the source itself. Their content includes professional advice, video tutorials about design and their tools, live streams and interactive challenges, and overall informative articles that will surely help out aspiring designers.
The Master Jedi Yetis have spoken. They have chosen this great article read for you: Build dynamic cityscapes with Brian Yap
3. The DotYeti Blog
Hey there! We're cool too!  Aside from being one of the fastest-growing unlimited graphic design subscription service websites online, DotYeti has started an awesome blog with some interesting insight on all things graphic design. Just like the designs on the platform, DotYeti incorporates fun and joy in everything, including content. Our content writing yetis create articles that give people from every industry an inside look into the wonderful world of graphic design.
Shameless plug alert: we would recommend you read all our stuff. But if you have to start somewhere, try reading this: 10 Best Online Ads of 2020 (Quarantine Edition)
4. Creative Bloq
Keeping up with the latest trends on all things graphic design? Creative Bloq has the eye for scoping news that you'd think wouldn't concern you — except that it does. This blog has a knack for finding interesting creative topics and turning them into informative and entertaining articles to read.  In essence, it's a design resources center that's basically like that friend that starts every sentence with, "did you hear about that new thing with…" 
The Yetis think you'd be intrigued by this piece: Malika Favre's new Kama Sutra alphabet is gloriously sensual
5. Dribble
Five words: a blog that gets you. Dribble is one of those graphic design blogs that offer tips and trade secrets that anyone on the field can definitely relate to. It offers professional advice like it was coming from a concerned friend. They understand the qualms and difficulty of designer life and writes specifically for you.
The Yetis found this helpful and think you'd like it too: 9 Tips To Keep You Sane When Working With Multiple Clients
6. MasterBundles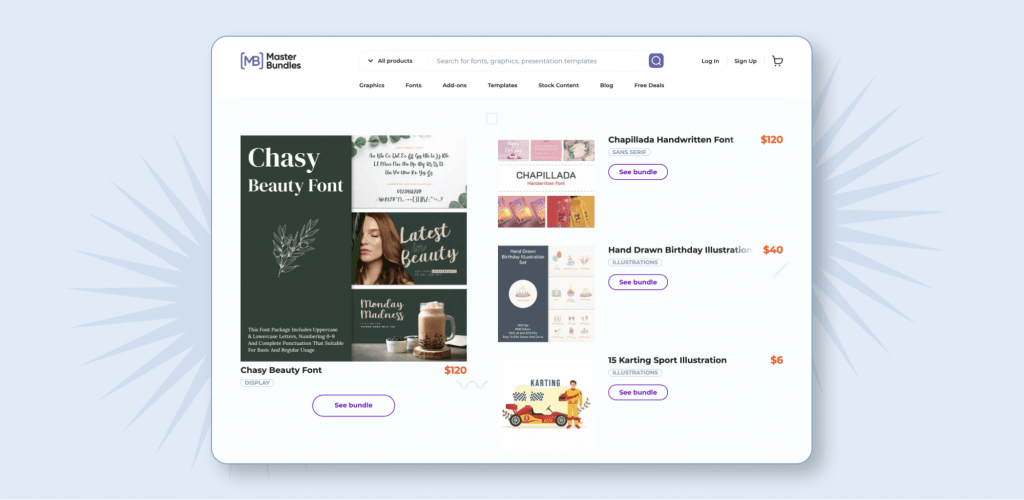 MasterBundles is a graphic marketplace helping users to sell and to buy illustrations, fonts, SVGs, templates, UI kits, and other products that you cannot create without an experience in the design field. Be sure to check out thematic bundles and freebies! Then visit their informative blog to explore articles on graphic art topics, especially tips for beginners, collections of trending products from vendors, helpful guides on how to find graphic design job, and more.
7. UC Creative
If relevant and interesting reads are what you're looking for, then this is one of the blogs to visit. UC Creative takes on the industry's top trends and incorporates them into their blog articles and makes them almost timeless. They examine pop culture in the eyes of a graphic designer and write really cool blogs that will have you shaking your head in agreement.
The Master Jedi Yetis think you'd love this piece: UCreative's Graphic Design Reading List
8.
Mindsparkle Mag
Mindsparkle Mag promotes the most beautiful and inspiring projects in the fields of Design, Websites, and Video. This blog is perfect for anyone looking for a brand aesthetic inspiration, showcasing amazing and clean graphic and web design on a regular basis. Their Instagram also sheds light on their simple yet impeccable work. Mindsparkle Mag also runs blog posts on their work in websites where designers can view and appreciate the many aspects of a brand's design. For those looking to get into design and creative work in the marketing world, this would be a great blog to start reading.
If you're interested in writeups on how a brand's design came to life, the Yeti Jedis have this to recommend: California's Sparkling Water. 
9. Creative Nerds
Who doesn't love free stuff? Well, if you do, then the Creative Nerds website is worth checking out. This blog is full of free resources and great vector inspirations for special holidays and the like.  This platform has taken it upon themselves to make several compilations of graphic design creative kits and the like to help one creative nerd from another. Plus, their insights and recommendations are pretty good as well.
The Yeti masters found this article pretty useful: 50 best free fonts from 2020
10. Dexigner 
If you're in the mood for an intellectual read, then this blog is the go-to platform. Dexigner takes on graphic design with a heightened perspective. You'd be able to find in-depth articles on graphic design. There are even coverages of awards and announcements of events or competitions calling for participants. This blog is perfect for graphic design enthusiasts who want in-depth knowledge that interests them.
This article was curated and recommended by our wisest Yetis: This is What Democracy Looked Like: A Visual History of the Printed Ballot
11. Lemonly
Infographics are one of the most important marketing collaterals out there used to both attract attention and make information more digestible. Lemonly is your resident website for all things infographics.  This creative agency specializes in creating unique infographic design styles. So they're no stranger to giving out advice through the power of pictures.
Here's something the Yetis found interesting: Your Internal Communication should be an Experience, not an Email.
12. Creative Boom
Inspiration can come from anywhere. And for graphic design, it is literally everywhere. Take graphic design and inspiration together and you have the wonderful blog of Creative Boom. This blog spots the design trend in its early stages and provides meaningful discussions around them. From designs on soda cans to designs on walls and billboards, this blog covers it.
The Yeti Jedis found this a great read to end with: Be inspired by these award-winning branding projects by leading designers
13. JUST Creative
If there's any way to get a good grasp about good branding and designing, it's from learning from industry-leaders. One blog to check out is JUST Creative, one run by Jacob Cass, a prolific brand designer & strategist. Jacob Cass recently rebranded San Francisco and Puerto Rico, and also branded New York's Digital District. Other clients have included the likes of Disney, Nintendo, and Jerry Seinfeld. He has spoken at TEDx, been featured in Forbes, Entrepreneur, and has been awarded LinkedIn's "Best of" for branding. For him, design is a lifelong journey of continuously honing his craft, as well as educating other fellow designers & business owners to build on theirs, which has allowed him to build a large and loyal following, including his website which has been viewed over 50 million times. His blog shares a variety of posts that can help out creatives in several fields.
From the Yeti Jedi Master himself: Will help you out, this article will: 75 Fresh InDesign Templates (and where to find more)

Unlimited Design with DotYeti.com
If you haven't heard already, DotYeti is a growing graphic design subscription service that provides unlimited design for a flat monthly fee. Are you a graphic design padawan looking to join the force? Head on over to our careers page to apply. And if you're a company interested in working with the Yeti Jedi masters, check out our prices to subscribe to our awesome service.