They say a picture can say a thousand words. And for the best movie posters, that's precisely what they are trying to achieve.
Movie posters are an underrated piece of art. For such a small dimension, it's supposed to set the tone of the film and provide additional context to the story. Because of this. poster designers often have to balance a lot of elements to get the overall feel and message right. 
The most unforgettable movie posters offer depth to a film without giving too much away. 
 While trends have been set in the industry, it's exciting to see how old designs are being evolved into something new. In this list, we'll review the most creative and best movie posters of 2022.
We also take a look at the 2023 posters that have piqued our interest. 
1. Everything Everywhere All At Once
The DANIELS' Everything Everywhere All At Once (EEAAO) blew audiences away with its emotionally-charged storytelling. This film poster is the perfect first bite to manage expectations of this woozy, trippy, and thrilling multi-universe story. The poster utilizes the many characters and motifs of the film, without losing the audience with its various design elements. 
It seems like this movie poster style is getting traction as Three Thousand Years of Longing, with its Renaissance-style poster offering the same maximalist energy. 
2. Do Revenge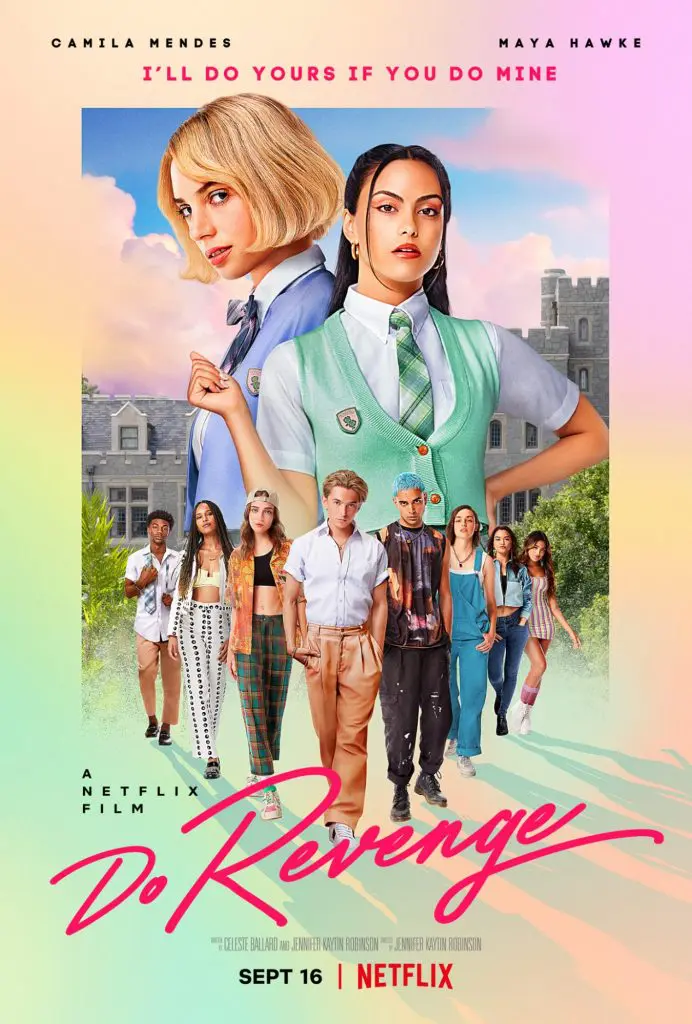 Do Revenge uses old chick flick tropes and meshes them with Y2K-appropriate fashion and pop culture references. The revenge tale is rife with top-notch acting and pastel visuals that will make any 90s baby squirm with jealousy. 
The two leads tower over the rest of the cast in the poster, which has a painterly sheen across it. It's a preview of what the two leads have in store for the smaller people at the bottom. 
3. Don't Worry Darling
The controversial Don't Worry Darling cast drama had the whole industry holding its breath. While its widely-used poster is a simple one featuring Harry Styles and Florence Pugh in bed, its other official poster offers more insight into the creepy suburban utopia. 
This one features the couple sharing a kiss in their vehicle. The backdrop is the town of Victory, a seemingly perfect neighborhood. Upon closer look, the blue sky has a plane crashing into it: a hint that there's more than meets the eye here.  
4. Pearl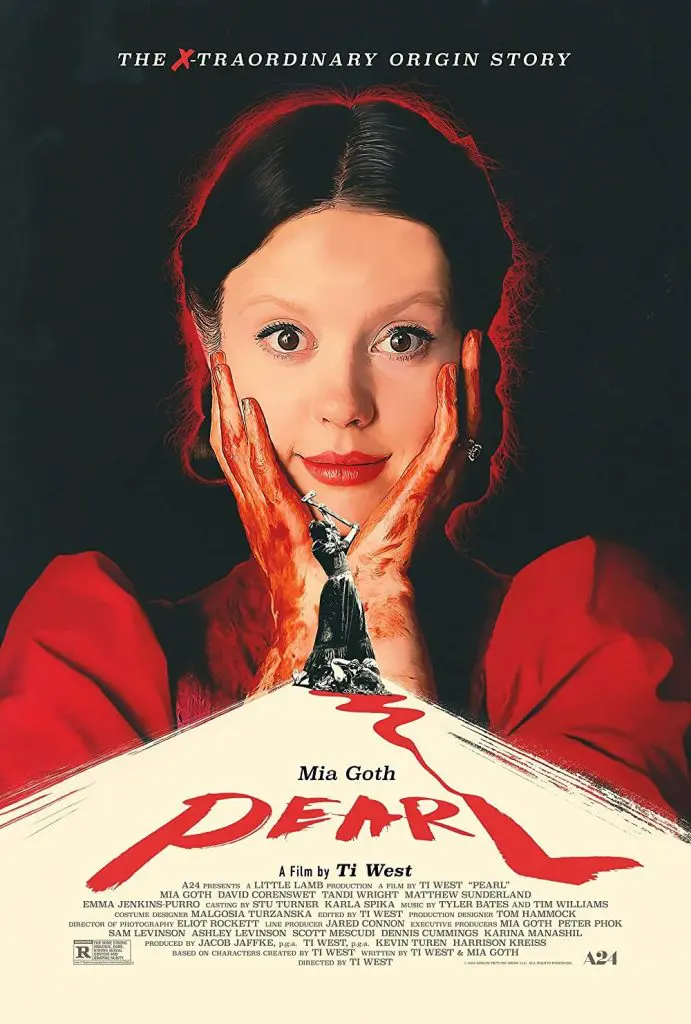 Mia Goth's performance as Pearl in the titular film has garnered widespread attention, and for good reason. The film's poster features the killer in her signature hairstyle with her hands covered in blood. 
Pearl's character is central to the poster's magic–the deranged yet innocent look in her eyes. You can see the small detail of Pearl poised to take another hit at her victim. Plus, the victim's blood flowed down to spell the letter L. These small yet essential details give weight and add hints to her story. 
5. Leonor Will Never Die
Leonor Will Never Die centers around the titular character, a veteran actress who is financially struggling after her glory days. When given the chance to re-enter the industry, she revisits an unfinished script she had written years ago. 
Tragedy strikes and she is forced to complete the rest of the script in less than favorable conditions, and here's where things get woozy. The poster has a kitsch sketchbook aesthetic that mixes fiction and reality together, not far away from what Leonor experiences. 
6. Tar
In this film poster, the problematic Lydia Tar stands at an odd angle with her arms stretched out, and her body in an awkward contortion. It's the body language of a woman completely immersed in her own world. 
The photo is imposing, much like Tar herself, who keeps an iron grip over her subordinates. The minimalist type and dark colors capture the depth of Tar's character–twisted, pained, and hurtling toward her doom.
7. Fire of Love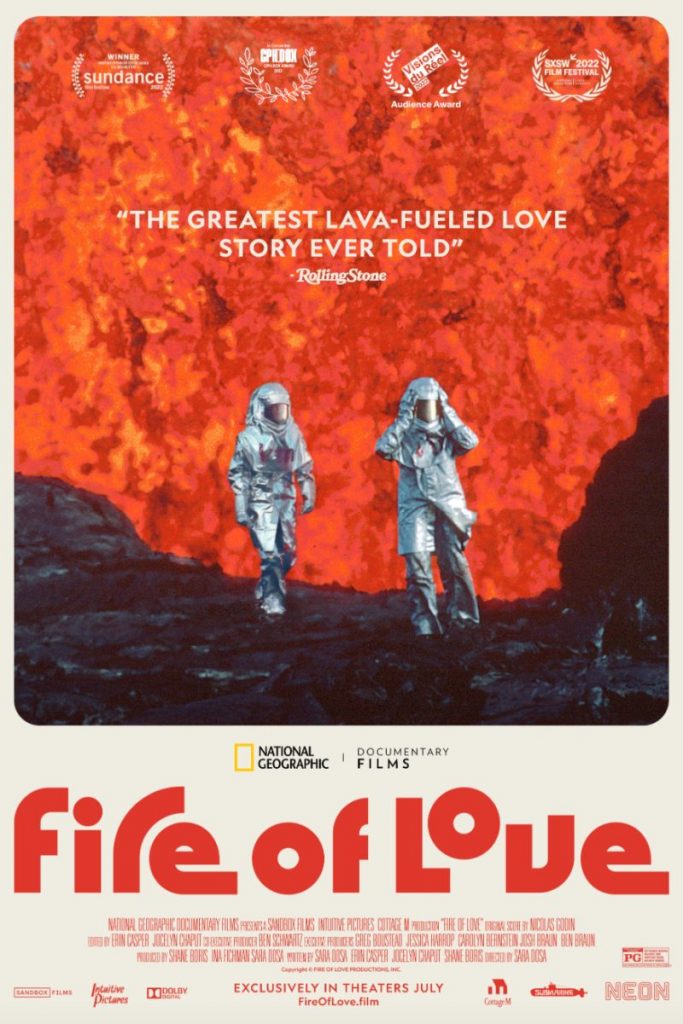 Fire of Love is a documentary that follows the life and work of volcanologists Katia and Maurice Kraft. The film features archival footage from their research on Mt. Unzen, where the two ultimately died. It's a true blue story of love and the limits of your passion. 
 The film's poster depicts two suit-clad researchers near a bright, angry lava flow. Aside from the stunning photo, what sets apart this film poster is its custom typography. Overall, these visuals are a fitting tribute to the daring couple. 
8. Pinocchio
Guillermo Del Toro's version of Pinocchio is dark, eerie, and enthralling–much like his other work. This limited edition poster by James Jean is a perfect encapsulation of the film's themes and message. It's complete with a storybook aesthetic that captures the heart of this bedtime tale.
This illustrated version captures the intricate details and elements of the film. And if it looked familiar to you, it's because Jean was also responsible for EEAAO's film poster.
9. Triangle of Sadness
Triangle of Sadness pokes fun at the lives of the ultra-rich. This dark comedy is packed with questionable characters with incredulous moral compasses. Seeing them squirm and struggle at their circumstances–devoid of any composure–is very satisfying. 
This poster portrays that situation very well. This character's bulging and teary eyes as she vomits gold liquid are pure comedy. 
10. Batman
The new Batman is darker and edgier than ever. The rebrand is complete with a reintroduction as a new ensemble cast takes over the iconic DC franchise. The posters are complete with the Batman motif and question mark elements. 
It's a bold new look with a new visual identity that signals the start of a new chapter for the character. For its creativity and simplicity, it's one of the best movie posters of 2022. 
[Bonus] The Best Movie Posters This 2023
Of course, this list wouldn't make be complete without a few movie posters that have been teased. 
Barbie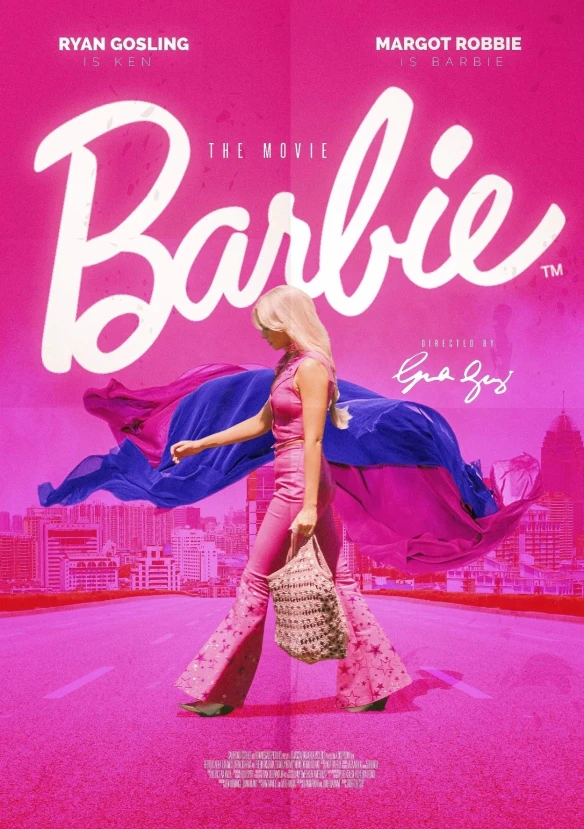 Greta Gerwig's reimagination of the classic Barbie movie is highly anticipated. Audiences are keen to find out what this star-studded movie has to offer. 
Spiderman: Across The Spiderverse
The long-awaited sequel to the animated Spiderman series is finally here. The poster features an upside-down Miles Morales with his crewmates. 
Beau is Afraid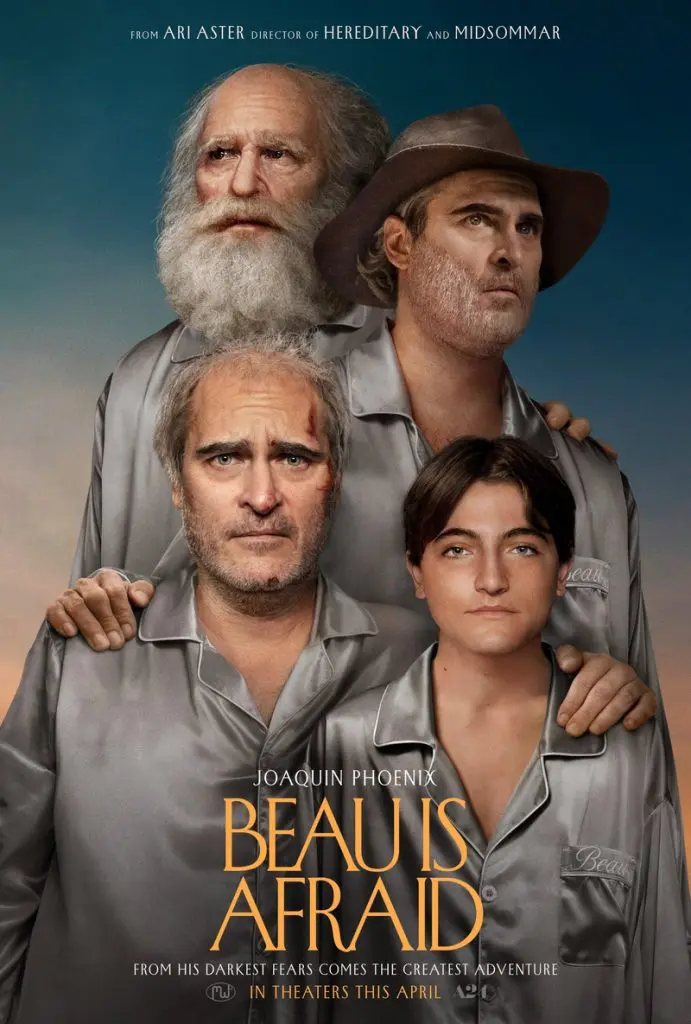 The film posters for Ari Aster's Beau is Afraid keep getting weirder and weirder. It features different versions of actor Joaquin Phoenix with a resigned and worried look on his face. 
Read More: Why an Unlimited Graphic Design Subscription is Your Best Option for Creative Work

Our Portfolio: Print Media Work 
Get more exciting designs for your print media needs. DotYeti offers unlimited graphic designs in various formats for the price of one designer. 
Sign up today and get started for as low as $449 a month!