The Y2K trend is one of the hottest lifestyle trends that's been dominating marketing circles everywhere. With GenZ leading the Tiktok-popularized trend, the aesthetic has become ubiquitous, often used to convey a certain youthful and refreshing mood. 
We don't see this trend of nostalgia stopping anytime soon. That's why we've rounded up the best Y2K-inspired branding from different industries. From the music industry to Big Tech, these branding strategies will leave you inspired and ready to vibe with a new generation. 
What does Y2K mean?
Y2K or Year 2000 is a fun, flashy, and eccentric design trend. It's But most of all, it captures the nostalgia for all the other decades. Spotting what a Y2K trend isn't always easy.
Here are some elements that can leave clues: 
Cyber visuals:

Think 90s computers, pop-up messages, flip phones, and holographic elements

Preppy/grunge looks:

Think schoolgirl skirts, deconstructed blazers, and neckties

Unique hair:

Think butterfly clips, space buns, furry hats, and many mini accessories

Kawaii aesthetic:

Think pinks, Hello Kitty,  leg warmers with chunky shoes, and fur

Kitsch elements:

Think doodles, balloon fonts, tacky color combos, layered clothing,  and mismatched textures
Music and Entertainment
The world of music and entertainment has always been a solid indicator of pop culture trends. Artists, with their visual and creative direction, can work hand in hand with designers and other creatives to bring their visions to life. 
The result? Amazing aesthetics that bring the worlds of fashion, set production, and video editing together. 
1. NewJeans
  
NewJeans is a rising K-pop girl group from Ador of HYBE labels (the same company that created BTS). The group has a young and fresh sound not typical of the concept-heavy and visual-focused Korean music scene. 
They have masterfully blended their aesthetics in true Y2K fashion as they easily switch between sporty, kawaii, and preppy looks. Just take a look at these visuals from their singles, "Hype Boy", where each member sports a unique style. With a deep understanding of youth culture, this girl group is poised to bring back and lead Y2K trends into the new year. 
2. Head in the Clouds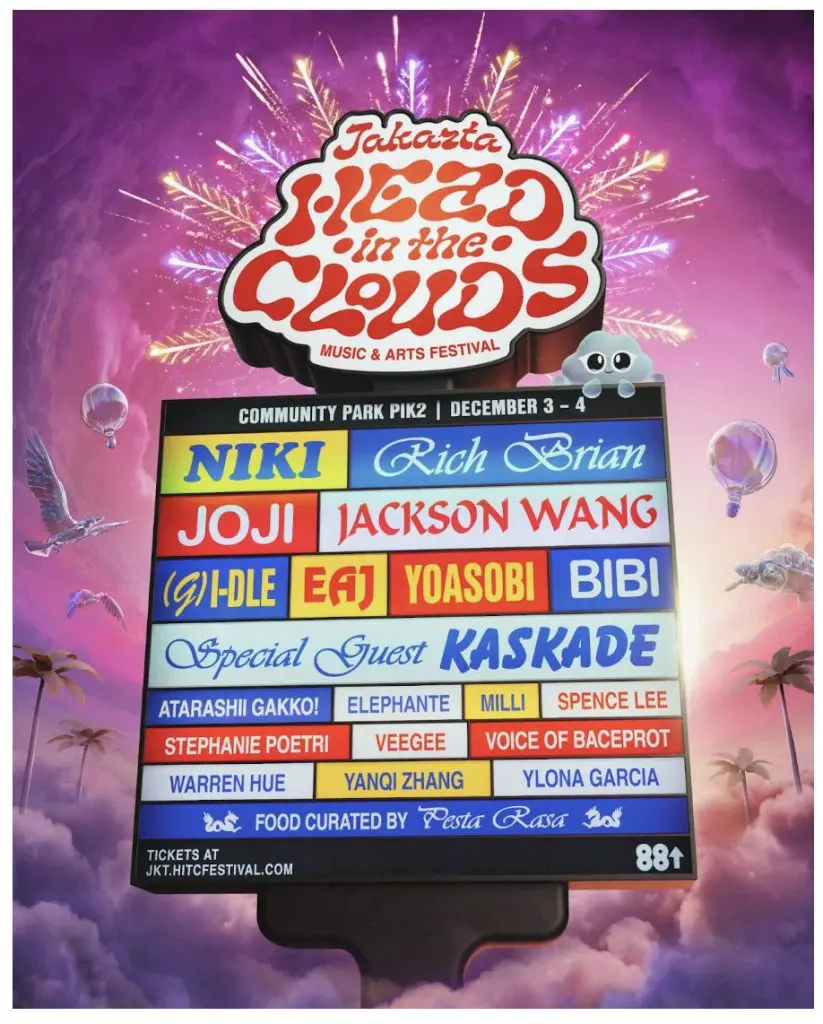 Another shining example of Y2K-inspired branding comes from this music festival's poster. Head in the Clouds uses classic typography trends to amp up the early aughts funk look. It uses bold color combinations, mixing red, yellow, and blue, and pairs it with a custom balloon type. 
Not to mention it also has a cute retro 3D character that's an adaptation of the retro brand cartoon character trend. Nonetheless, this music festival aesthetic is that most music posters are currently adapting to their own. 
Beauty
The beauty industry is also not one to miss the nostalgia trend. With their creative packaging designs and cheeky copy, beauty brands have a lot of leeways to connect with their young audience. 
3. Plump

Plump is an online Mexican platform that sells global skincare products. And if there's anything they want you to know, it's that they're a culture-forward brand. With an iridescent blob logotype, the brand offers holographic packaging and pairs it with an array of matte pastel colors. 
Their web design, on the other hand, mixes 90s-style fonts and colorful stickers that call back to Olivia Rodrigo's Sour album cover. The best part? Plump uses GenZ slang in their copy without sounding corny.
4. RAD Makeup
We mentioned doodles earlier, and who pulls it off better than RAD Makeup? With its scribbled RAD logo, this cosmetics brand brings together Y2K elements we all know and love. They have retro-inspired colorways, wide and bold types, gradient designs, unique slogans, and more.
Their web design also shows mastery in trendy branding. With micro animations, a customized mouse cursor, and moving banners, other brands have a lot to learn from this RAD's visual identity.
Read more: Top Web Design Trends To Watch Out For in 2023
Apparel
Fashion and apparel are probably one of the leaders in the Y2K-inspired branding revival. Starting with their nostalgic campaigns, they've inspired a whole new generation to embrace the comeback of 90s fashion trends. 
5. Baboon to the Moon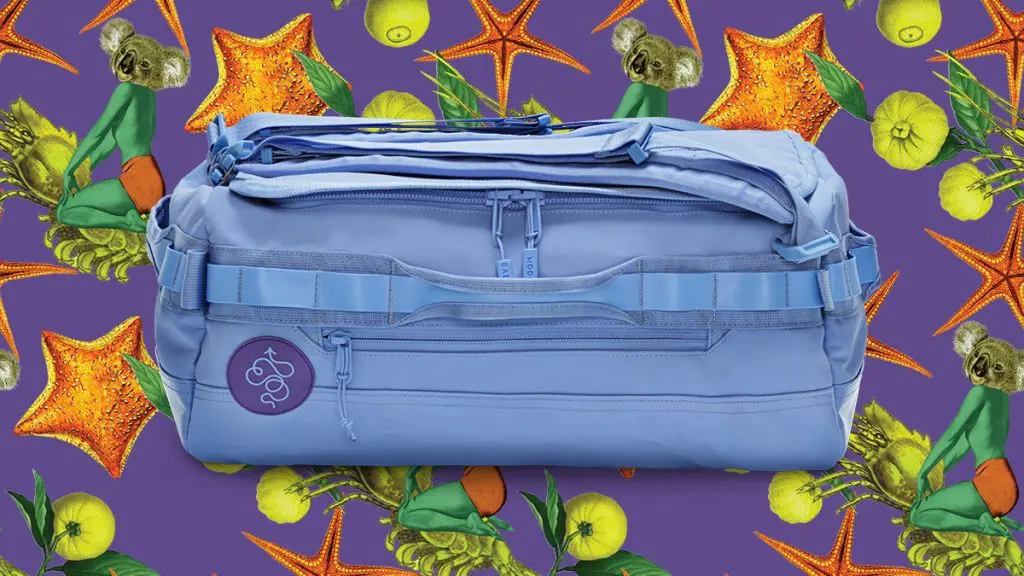 Baboon to the Moon is a bag brand with a mission–to create colorful bags. The brand literally has a colorful and bold visual identity, which you can see from the range of expressive types they use. Not only that, they employ overlapping layouts in their product campaigns and website. 
Not only that, but they also have moving banners on their site for reminders, as well as for emphasis. Meanwhile, in terms of product images, their bags are modeled in a utilitarian, grunge, and street-forward fashion. It's not hard to miss the kitsch elements here. 
6. Heaven by Marc Jacobs X Online Ceramics
Heaven by Marc Jacobs was first released in 2020, at the height of Tiktok during the Y2K Renaissance. Since then, it has cemented itself as a leader in the aughts-style subculture. This brand collaborates with Online Ceramics. 
The collection itself is pretty standard, with vests, crewneck sweaters, and t-shirts taking center stage. However, each piece of clothing has unique funky characters like bears, snails, mushrooms, and frogs. It's the best blend of psychedelic, cottagecore, and kawaii that's perfect for people looking to mix aesthetics. 
7. Blumarine
The 90s babies are probably going to love this. While other brands are making their campaigns more Y2K oriented, this OG Italian powerhouse has come to blow everyone away with its Autumn/Winter 2022 campaign. 
Oversized and colorful fur coats, a collection of pastel pink pieces, and patent leather bottoms are the heroes of this collection. Feminine energy is further emphasized with playful accessories such as a large flower tulle neckpiece and mini fur baguette bags.
Tech
The tech industry is also one to dabble in nostalgic marketing. With Samsung releasing the Galaxy Z Flip phone line, tech companies are slowly getting the hint that nostalgia marketing works. 
In this space, gadgets in vibrant colors, brand collaborations, and consumer-centered marketing campaigns are key ingredients to connect with a new generation of consumers. 
8. Samsung X Maison Margiela
The collab screams minimalist grunge in the best way possible. The all-white colorway is an ode to the fashion house, and so is the calendar that emphasizes the number 11. The back of the phone also resembles the internal circuit of a Samsung phone. 
This limited edition collection has only 100 available units. Brand collaborations are great ways for companies to widen each other's consumer base. That means a tasteful coming together of products that can enchant a gray area of possible users. 
Beverage
Meanwhile, an unlikely industry that's hopping in on Y2K-inspired branding is the beverage industry. Their take on the aesthetic blends expressive typography and visual storytelling. The result is excellent visual packaging that will leave you wanting more. 
9. Arlo Kombucha
Arlo Kombucha uses tried and true marketing strategies to stand out from the crowd. Let's count the ways they've impressed us. First, the custom typography that runs the length of their canned drinks. It's even more impressive when you see subtle details like the eyes and the wavy element. 
Next, the bright and retro-inspired product campaigns use bold colors and simple light manipulation. Little sticker elements complete the retro and Y2K-inspired campaign.  
10. Loki Seltzers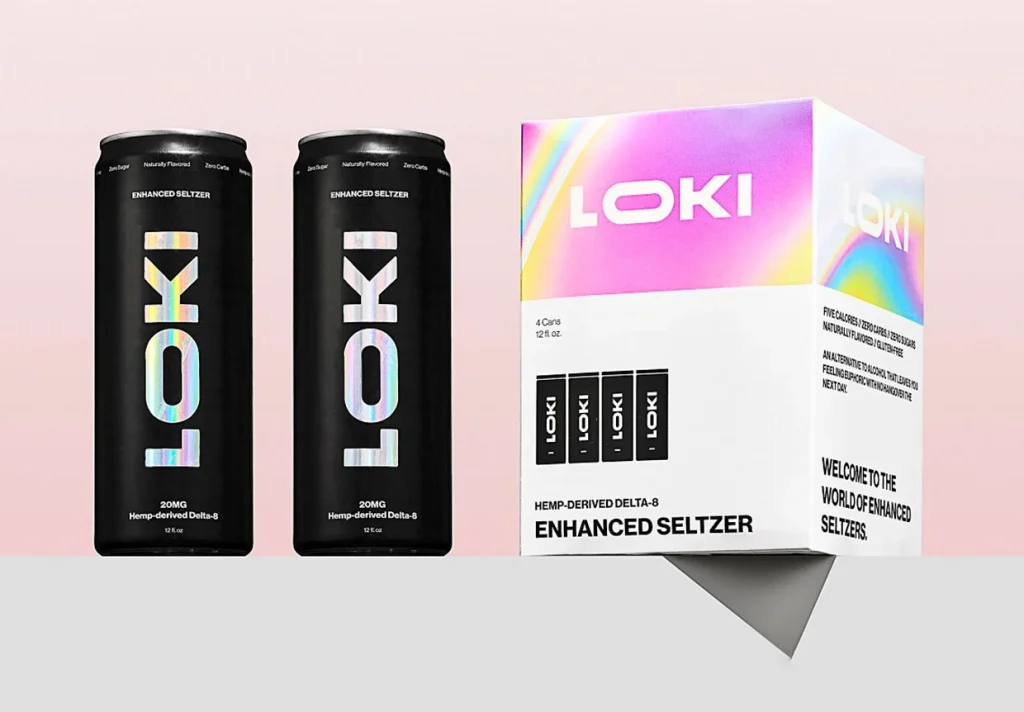 Loki Seltzers offers an alternative to alcohol and inspiration to use foil-inspired packaging. The brand puts a twist on minimalist packaging designs with its holographic branding. Unlike other brands in this list, Loki Seltzers offers a more subdued and subtle elegance. 
It's a reminder that for all of Y2K's tacky design choices and eclecticism, it's also an aesthetic that can stand on its own. 
Think you understand the aesthetic a little bit better now? It's certainly a difficult concept to grasp, especially when you only have a surface-level understanding of what's hot in social media. 
If you want a solid Y2K-inspired branding style, DotYeti offers unlimited graphic design services to scratch your graphic design checklist. From packaging to print materials to video animations, we've got artists ready for your every request. 
Sign up today and get started for as low as $449!