It can be a daunting task to explain the ins and outs of Digital Marketing. Like where do you even start?  As with many broad topics, examples can be helpful in explaining and clarifying, which this blog post aims to do.
After going through these digital marketing examples, you'll have a firm grasp of what digital marketing really is, its benefits, and the many forms it takes.
But first, let's define digital marketing. 
Defining digital marketing
"Digital marketing is the use of the Internet, mobile devices, social media, search engines, and other channels to reach consumers." – Investopedia
This is a simple enough definition to get us going but let's dive deeper. Digital marketing isn't limited to just using electronic tools and channels to reach consumers although that is part of it. To really understand what Digital Marketing is, imagine it as a large umbrella with various sub-types of marketing underneath. These types of marketing have different uses but in essence, they all help businesses reach their goals. Here are some types of digital marketing: 
Content Marketing

Email Marketing

Social Media Marketing
For the scope of this blog post, we'll only talk about these 3 types of digital marketing since they're the most common. Let's start with Content Marketing.
Content Marketing examples
Content marketing is a strategic approach to consistently creating valuable, user-focused content. Contrary to popular belief, it isn't just about making blog posts or landing pages (though they do play a role). Successful Content marketing is about knowing your audience and consistently delivering content that benefits them first, which will then ultimately benefit your business in the following ways:
Increase website traffic

Increase app downloads

Educate users about your product

Increase brand awareness and affinity
Ahrefs does a wonderful job of this and they'll be our example for content marketing. If you're not familiar with Ahrefs, it's an all-in-one SEO toolset. By nature, SEO tools can be a bit overwhelming to use. By creating well-crafted informational videos that serve the user first, they were able to seamlessly onboard new users and empower existing ones.
This even helped people who didn't use their SEO tool since their videos covered general topics surrounding SEO, digital marketing, and more. 
Email Marketing Examples
Email Marketing is self-explanatory in a way. As you may have guessed, you'll be using email to reach your audience but executing it successfully isn't so simple. If you're not careful, Email Marketing can backfire on your business (e.g. people view your business as spammy). But doing this well can be highly beneficial for your business and here are some ways how: 
Reactivate old users

Upsell your product or service

Increase awareness of promotions
For example, Dropbox did an excellent job of informing and encouraging inactive users to try the updated version of the app. Here's what their email looked like.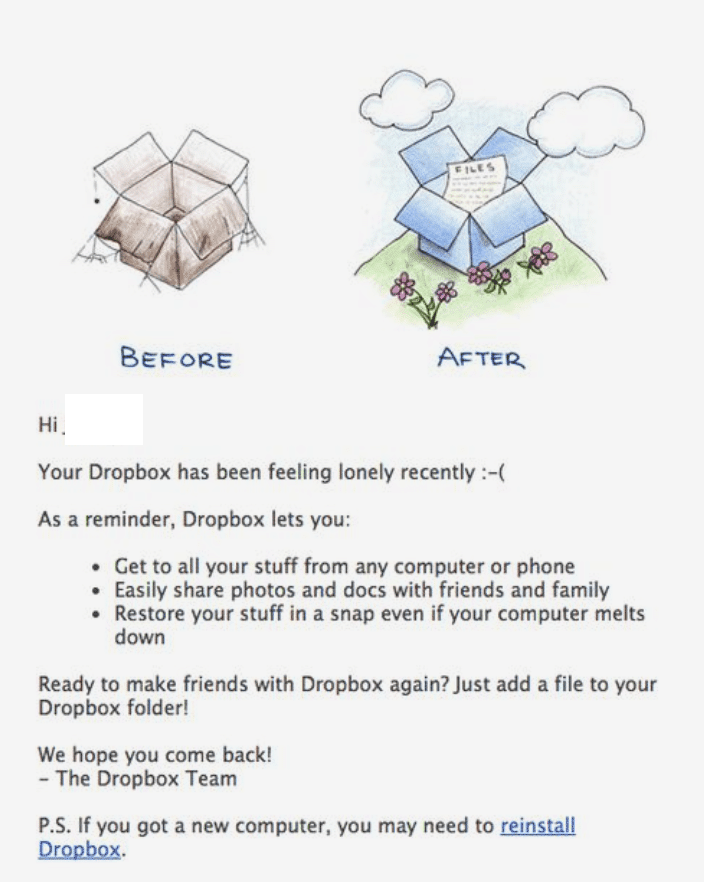 Their email was designed well with custom illustrations and the copy was clear and straight to the point. This is a great example of doing email marketing well by having a specific objective in mind. The objective of the email was simple – get inactive users to use the app again.
As with most things content-related, the simpler it is the better. Emails that are too long and cluttered tend to intimidate readers and usually end up skipping them.
Social Media Marketing Examples
Using Social Media Marketing is another great way to reach your audience and create a community. Successfully using Social Media Marketing requires a lot of creativity and consistency. You need to be able to find a way to connect with your users through values, humor, and other ways which is why a thorough strategy is needed before publishing content. Preparing a month-long content plan and calendar is extremely helpful in making sure you execute on time and on strategy. Here are some ways Social Media Marketing can benefit you:
Build a loyal following

Increase brand awareness

Increase brand relevance
MoonPie is one of our personal favorite digital marketing examples. They're most active on Twitter and have garnered over 290k followers through engaging and humorous content. This kind of content may not directly lead to sales (or maybe they do) but they're effective in building brand awareness. Even if you don't buy MoonPie's you'll now recognize it because of a funny tweet you saw. That counts for something!
A fun thing about the holidays this year is that I don't have to look my relatives in the face and tell them I am still tweeting about MoonPies

— MoonPie (@MoonPie) December 22, 2020
A family can just be you and a MoonPie sitting on a plate in a dark room

— MoonPie (@MoonPie) November 23, 2020
What type of digital marketing do you use?
These Digital Marketing examples are a great way to get a firm grasp of the uses and benefits of using technology to benefit your business. These 3 types are the most commonly used ones but there are more out there such as Affiliate Marketing, SEO (Search Engine Optimization), PPC (Pay-per-click) Advertising, and others. 
With all these options available, it can be overwhelming to decide what type of digital marketing to use. That's why it's important to step back and really understand your goals. What are you trying to achieve? Are you trying to increase sales or build a community? Knowing what your goals are will help guide you in deciding what type of digital marketing to use. 
Consider hiring digital marketing experts
If you know your goals or objectives and lack the expertise or manpower to create a strategy and execute it, then maybe it's in your best interest to hire a marketing agency. Most provide you with a comprehensive guide that will help you take your business to new heights. 
However, if what you really need is a content agency that specializes in graphic design, we recommend trying a monthly subscription platform like DotYeti.
We provide unlimited graphic design for you for every design need. Whether it's video, animation, custom illustrations, presentations, website landing pages, and more. Sign up today and get started for as low as $449 a month!