We all know how difficult lead generation is. The question is—what works?
If you've got a website, you're already a few paces ahead of your competition. And we've always said putting up your own business website is the most important step for digital marketing. It acts as a second skeleton for your business. More often than not, business owners, like you, would optimize that website with multiple features. We all want original content and engaging widgets with loads of features. Most of the time, we think this will make your customers come back and browse through your store again. Now, most business owners think more features means more conversion. But when you add more features, does it drive them to click the buy button?
You've probably watched your conversion rates, clicked on that poor refresh button, and hoped the numbers would go up instantly. With all the marketing features you've added, you wonder why can't your website drive that high lead generation everyone else has. Now, there's several reasons for this. And there's a secret to lead generation that goes over business owner's heads. But let's stop and talk about a marketing disease that has seeped and plagued the digital world since the late 00s.
Beware: Feature Fatigue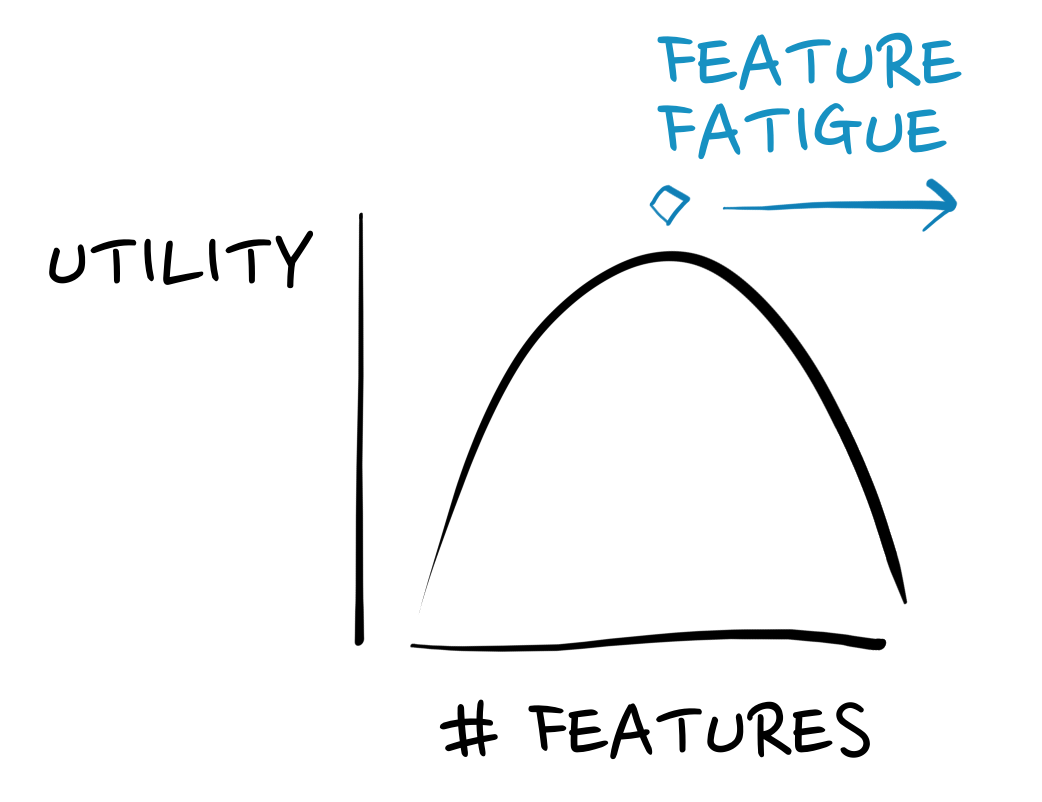 Feature Fatigue is described as:
"…a tendency for consumers to shy away from products that appear to be feature-rich. It is a modern phenomenon that has occurred due to the explosion of the number of features packed into products and services."
This means your customers get tired of too many features and would associate them with being poorly made and unstable. Nowadays, consumers shift to a minimalist consumer mindset, even in the digital marketing industry.
I encountered the term Feature Fatigue in a 2005 MSI article by Thompson, Hamilton, and Rust. They studied marketing features and how they relate to lead generation and they have proposed the following conclusions:
From the perspective of customer lifetime value, choosing the number of features that maximizes the initial choice of the product results in including too many features.

If the number of features is sufficiently large, then additional features should not be added, even if they may be added at no cost. 

As the emphasis on future sales increases, the optimal number of features decreases.

The results suggest that firms should consider the development of a larger set of highly segmented products with a limited number of features rather than loading all possible features into one product.

Considering all the given information, we can only conclude one thing…
Less Is More Equals Lead Generation
That's right, less is more. We don't need many features if it will drive away your customers. It may sound so simple, but the implications make things more complicated than it seems. There is no standard number for how many marketing features you can add. Or rather, the number depends on a case-to-case basis per business. For customer service, for example, adding email support, phone support, app support, and chat support can be overwhelming to some customers, especially for the older generation and non-tech-savvy audiences. 
The difficulty with feature fatigue is that it emphasizes customers wanting the best quality product or service without the overwhelming fluff your website imposes. The end goal is to balance quality market features with good service, which is crucial for lead generation. Customers would only go back to a business website they found easy to browse and buy from. They want services that help them to figure out what they want and how to get it fast.
Integration and Automation Boosts Lead Generation
According to research, automation increases overall business effectiveness. When used the right way, automation can help upscale your business to an attainable, desired level. Some businesses look at automation as a tool rather than a process revamp wherein experts point of pitfalls for mistakes are made. Automation, when integrated properly, actually provides the best quality of service for customers.
Concerning integration, companies nowadays optimize their businesses by creating Omni-channels where all features are integrated for customers to receive the same information, product, and service whichever channel they choose. 
Combining this all together, it's not difficult to imagine yourself bombarding your website with multiple features to meet all demands—even if it's something simple like customer service. You'd want to keep things tracked and answered whether it's emails, messages, or live chats. People want answers, and when they are potential buyers they want them now. Quite frankly, balancing good service without enacting feature fatigue for something as simple as this has been tested around but no quick solution has been introduced—yet.
Introducing Tidio Chat: the Lead Generation Secret
Can you imagine an app where customer emails and live chats and Messenger chats are simultaneously sent to one place? Have you experienced having actual functioning chatbots on your website? Well, now you can with Tidio Chat.
Combining automation and communication integration is one good way to avoid feature fatigue, and at the same time ensure lead generation. That's why Tidio Chat finds itself under the radar in marketing features. The good thing about Tidio Chat is that it's quite easy to add to your website so it's beneficial for both you and your customers. Its accessibility is further enhanced with chatbots that are automatized to react to your customers engagingly. Tidio Chat widgets can also be customized to suit your website—this is useful when considering color schemes.
But probably the biggest factor why Tidio Chat's integration and automation are so great is because chat bots can recognize customer concerns based on their messages. This is useful especially when they are asking for answers and you can't get to their message just yet. This allows you to become a step ahead of your customers, making them feel like their journey to your website has been acknowledged.
Third-Party Affiliations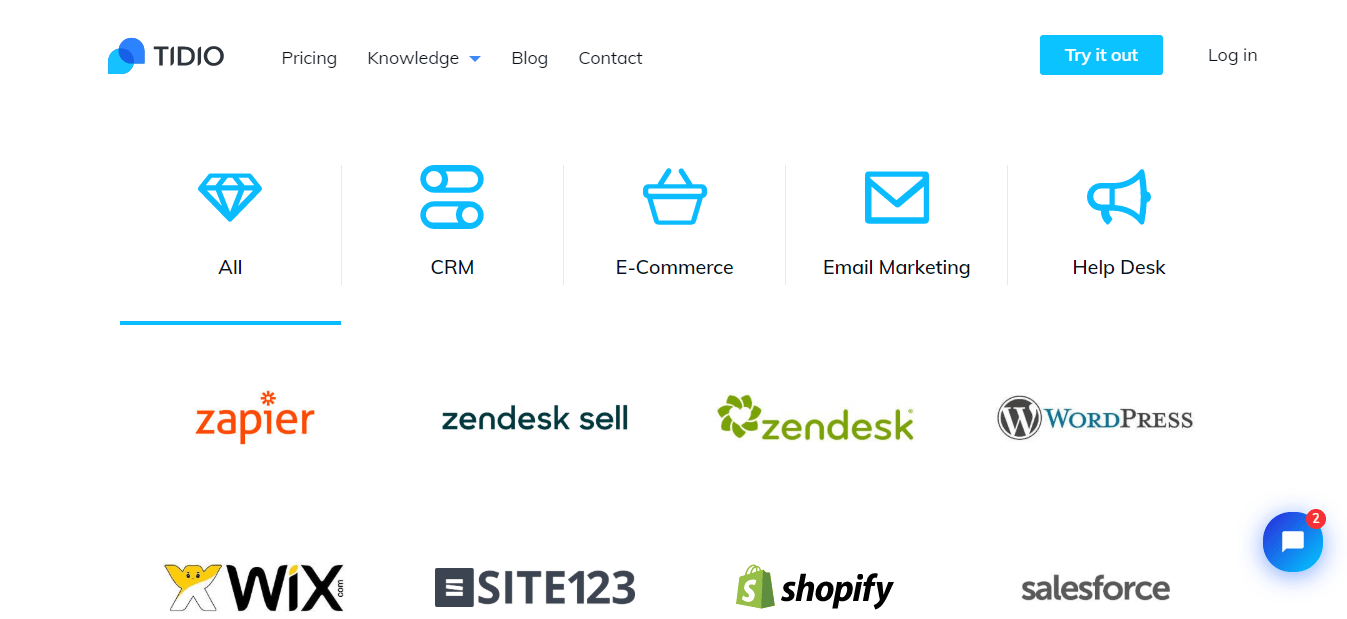 Tidio Chat works seamlessly because of multiple integrations. They have affiliations with WordPress, Mailchimp, Shopify, HubSpot, and other companies that could make use of Tidio Chat. 
If you're looking for automated chatbots or looking for a great feature to add to your website (without overflowing it) then check out Tidio Chat. It has all the accessibility and integration that your business needs. And the best part is, it's free. 

Interested to generate leads with stunning graphic design? DotYeti offers unlimited graphic design services for a flat monthly fee. Sign up today and get started for as low as $449 a month!