Don't get stuck with boring LinkedIn banner ideas. 
LinkedIn is one of the best places to set up a career profile and create a network of connections. The problem is it's hard to stand out from people with brilliant experiences. To make a good impression, you need a good portfolio and a striking visual brand. 
If you want to get noticed, you have to make the most out of that empty space. This is especially true for small businesses, freelancers, and startups who want profile traffic. In this article, we'll share some powerful banner ideas that will increase your profile clicks in no time. 
10 Best LinkedIn Banner Content Ideas and Examples
As tempting as it seems, you can't just slap a photo on your profile and call it a day. Being meticulous about what gets shown in your profile may seem too much, but it's not unreasonable. The more thought you put behind your brand, the better impression you'll make. 
Here are some effective content ideas to use in your banner. 
1. Use product photos
If you want something that catches the eye immediately, turn to photos of your products. You can never go wrong with a neatly arranged photo spread of packaging or of food. Using product photos is a popular choice among businesses in the food industry, just like Dominoes.  
2. Write what you do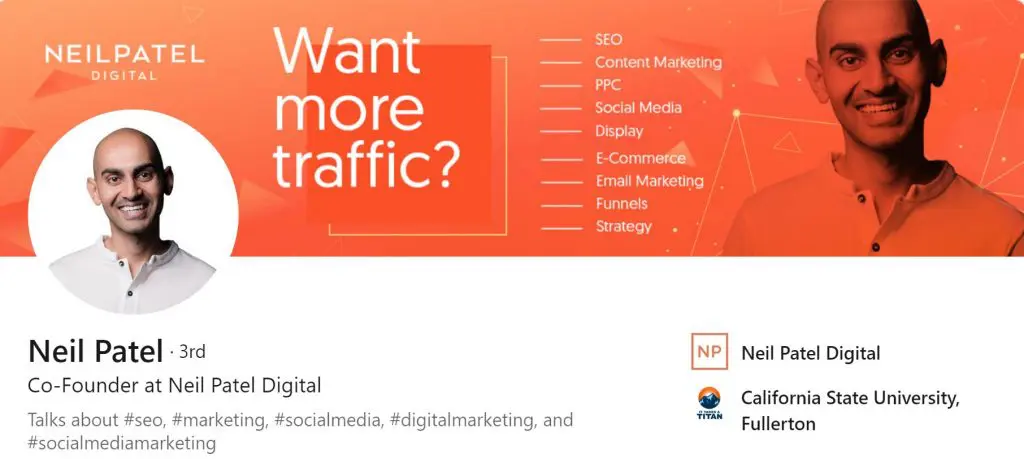 For self-employed contractors, you might want to write your list of services on your banner. Some people on LinkedIn find connections, but they're also looking to hire experts in the field.  Writing your services help people get to know the full breadth of your skills. This personal services introduction template will give you the same effect.
3. Add business details
Now, if you want to convert traction into sales, you want to add relevant business details in a straightforward way. It's a simple yet elegant-looking banner that's a perfect introduction to your brand. You don't have to limit yourself with contact details, you can also add opening hours just like this business LinkedIn banner template. 
4. Market your latest projects or campaigns
In the same vein, LinkedIn is also a great place to sell your projects. Published a new book recently? Opening up a franchise? These are great career developments that you may want to show off. If you want to get more traction for a campaign, it's also a wise choice to promote it in your banner. If you want to do something similar try checking out this limited discount offer template.
5. Add your milestones
Be proud of your achievements. Most people take pride in their professional achievements–companies too. It's not uncommon to see companies use their banner to celebrate their founding anniversary. Some even use it to show off their awards for the year, like what Amazon did in their profile. This is one of the most popular LinkedIn banner ideas for corporations. 
6. Make use of your tagline
If you want to keep it simple, add your company's missions and vision to the mix. It's never a bad idea to use a tagline–combine it with a photo related to your industry and some other details and you're golden. If done right, your design can look just as elegant as this powerful slogan-oriented LinkedIn template. 
7. Show your location
A picturesque photo of your work area is a common choice for most LinkedIn users. Most prefer a wide shot of the skyline or city center, but a photo of your building lobby or facade is also a safe option. It's a great way for you to signal where you're based without giving too much away. This personal profile template does an excellent blend of location and business detail elements. 
8. Highlight your work

A good way to show off your company culture is to use a photo of your coworkers as a LinkedIn banner. It's a common move to use an image at the office, of your coworkers, or of yourself while on the job. You can drop hints on your line of business by showing off items or tools related to your profession. You can use this minimalist photo template to recreate this look. 
9. Show the end goal

Meanwhile, if you want to do something that really shows off your commitment to service, use an image of what your business goals are for your customers. What do you envision your customers feeling when they get your product or service? Capture that stroke of joy in your banner design idea.
10. Inject your personality 
Whatever you do, don't lose your creative spark. Whether it's the color or the vibe of your chosen Linkedin banner template, you've got to ensure it's you. You can mix a funky banner with custom typography like this Burger King banner. While unconventional, it perfectly channels their new brand identity. If you want something chic and unique, a template with illustration elements is the perfect way to bring spice to your banner. 
Tips To Elevate Your Design
Here is some bonus advice to make sure your banner is picture-perfect.
Use the proper format 
If you're not savvy with graphic design, you probably won't even think about what size your banner should be. That can be quite inefficient though. Imagine customizing a template and finding out it doesn't fit. To save you trouble, here are the recommended dimensions by Glorify.
Personal profile: 1584 x 396 pixels

Company pages: 1536 x 768 pixels
Do what works for you  
Not all content ideas are for everyone. Depending on your branding, industry, and professional goals, the best LinkedIn banner ideas can look different for many people. Choose what aspect of your brand you want to feature then go from there.
Stay consistent
Whatever you do, make sure it's within your brand's personality and guidelines. You can try out new campaigns, but always make sure to stick to your own brand font style and color story. You reinforce your brand image the more you stay consistent in your visuals and copy. 
Want a custom LinkedIn banner that will blow your mind? Grab the chance to try out unlimited graphic design with Dotyeti for only $449 a month! You get social media banners, posts, and other marketing collateral that make your business stand out.