As the world rapidly changes due to digital innovations and forced COVID measurements, we as a team also made quite an astonishing switch in mindset and focus. Adapting yourself and your company quickly doesn't happen without jumping through different obstacles and pain points.
In the end, one important lesson that I learned is that your people are the most important aspect of the success of your business. And to keep your head cool even in the toughest of times.
I would like to take this time to take you through our journey in the Yeti-verse, which I believe will be beneficial for someone who is aiming for the stars. This can be for anyone: from business owners, entrepreneurs, marketers, designers to everyone else in between and outside. ✨
A look behind the scenes 
As a graphic service provider, we have to arrange a lot of things behind the scenes. Most people don't fully comprehend how complicated it can get to deliver the final designs. While we have developed a tailored platform that makes the custom graphic design experience as smooth as possible, graphic design still remains a creative artwork.
The designers are essentially artists—with each one having their unique specialization, from illustrations to animations. And on the other hand, you have clients with specific styles and needs. Combine these together, and you need to create perfect synergy in every single aspect. From understanding the client briefing, the design that needs to be delivered and its objective, and finally, of course, the turnaround time. 
The thing that we van fully control is the experience and the flow, from receiving the briefing until final delivery. You can read more about what we have done to make our processes as streamlined as possible over here: 
Hackernoon – How to Optimize Your Workflow: Time is Money by Roy Selbach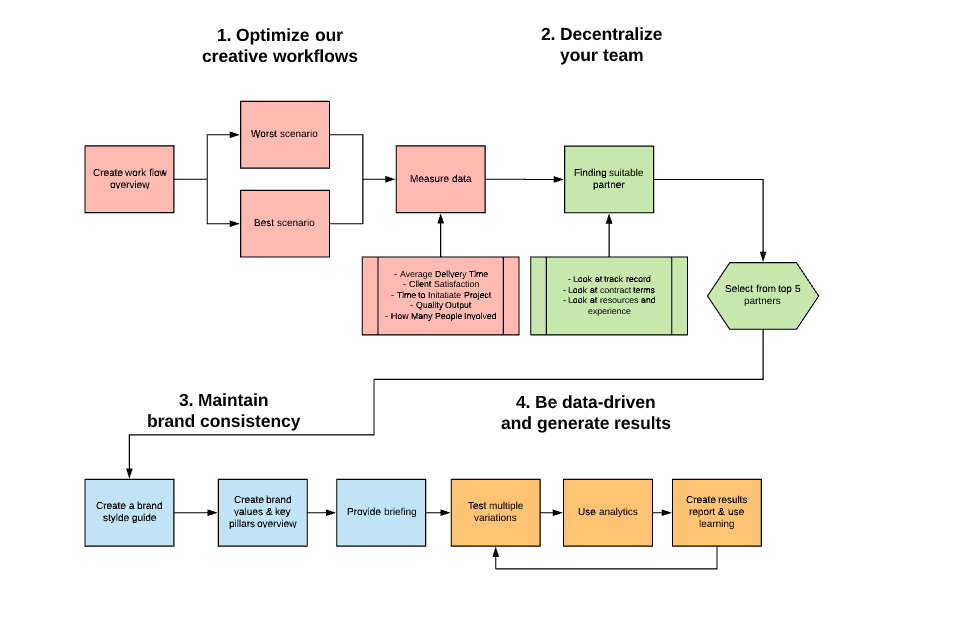 What we hold dearest
Creating and shaping a company goes with a lot of planning and upholding your values.
You can compare this to the blood running through your veins, or the DNA that makes you, you. From the start, we set a vision and tailored all of our activities towards accomplishing this vision. Even when times were bad (or good), we always circled back towards the core. This helped create clarity for the whole company.
I want to underline the importance of this for every reader. In our case, we differentiated between the vision for clients and for our staff.
To clients
🎨 
"Becoming the most reliable on-demand creative platform by taking away all the frustrations of the graphic design process."
To our Yeti's
👩🏻‍🎨 👨🏻‍🎨
"Providing a friendly and innovative remote environment that supports creativity and job stability with the focus on personal growth and rewards."
Even when we sometimes moved off-track, we always found a way to dive back into our core, our Yeti-DNA.
Some of the results we harvested in 2021
And what does all that hard work result in? Let's take a look at the top-level results that we achieved in 2021.
Revenue
As we experienced high fluctuations in revenue with seasonal sales and churns, we still managed to grow over 250% from January to December, with an initial target of 200%. As we are a young start-up, we had seasons that far exceeded our expectations and months where we saw a huge decline. We learned from this experience and will make sure that these seasonal changes will be effectively tackled in the upcoming year. Having historical data will certainly prove useful in this regard. 
Headcount
At the start of the year we had around 30 employees and this year, we are finishing our rollercoaster year with around 50 skilled employees. I am really grateful to the whole team working behind the scenes to make sure that DotYeti is growing in the right direction. To date, we've launched several community events and kick-started internal education programs to give everyone the chance to develop their personal skills.
Registrations & Clients
Ever since we launched our new platform this year, we saw impressive growth in registrations. Within one year, we managed to sign-up more than 1250 people to our platform. Those new registrations resulted in over 125 paying customers. And out of these, many still remain loyal to our service. They continue to enjoy the new features, growth, and high-quality processes that we've established and maintained over this period of time.
We quickly noticed that design is still a variable. It depends on the needs at specific moments in the customer journey. By analyzing the raw data that we had from our customers, we are paving the path towards a higher retention rate. Because of our platform and workflows, we are finally able to identify customer pain points in the early stages and come up with a viable solution. Besides that, we recently introduced the ability to pause subscriptions for those who need a short break. In the end, we are training all of our employees to create durable design experiences that are pleasing from the beginning till the end.
Development Milestones
Numbers don't always tell the full story. I have seen large companies with millions of dollars in funding go bankrupt in just a matter of months. Therefore, we decided to almost fully bootstrap our company with just a handful of talented developers (2-4 people) who were willing to go that extra mile and who believed in what we do and what we stand for. With a fairly small development team, we were able to move mountains and accomplish a lot in a limited time.
I believe that, besides the sales and marketing aspects of the business, the founders also have to understand the core aspects. This translates into building the product from the ground up. Who else should know precisely what the customer needs and what has to be built?
Launched Our New Platform
I still remember in March 2021, our hearts started to pound faster and faster. After months of planning and building, we launched our brand new platform. It's always an exciting moment of truth that determines whether our hard work pays off. We were also excited to see if our active customers were as hyped as we were about the dramatic change.
But, it was received with open arms! We even had many clients helping us behind the scenes with assessing and improving the platform. They gave us valuable insights on what had to be changed and the small bugs to fix as soon as possible.
After delivering the platform, we launched many new features that eventually became part of the Yeti ecosystem. To highlight some of the new features that were rapidly released after our core system upgrade:
Pay-as-you-go

– We made it possible to accommodate one-time projects.

Illustration library

– We created 150+ illustrations in 4 different styles accessible to everyone for free, client or non-client.

Perks program

– We partnered up with big names in the industry to offer excellent perks for our clients

Credit packages

– Credits can be purchased and redeemed for designs, or for a free trial for first-time clients

DotYeti Academy

– We launched our own course platform, with a very unique and special first course.

How to become a deaf web designer by Marvin. 100% done in sign language!

And many many other improvements… 
Tackle problems and obstacles as fast as you can
As the year went by, not everything went smoothly. Operating a business is like taking care of yourself. In your life, there are unpredictable bad days. It's important to ask yourself: what do you do when you are having a bad day? Are you sitting still and not solving problems, or are you proactively finding a solution time and time again? You are in control of the final result- in your life and in your business.
Jump into war mode, when necessary!
As the year went by, we saw many high seasons, but also a lot of low seasons with a higher churn rate than the other months. Running a start-up isn't always the easiest thing, especially when you are always running on a tight budget. But missing a large VC-powered budget, actually makes you take action faster. It pushes you to come up with solutions and spot the weaknesses in your business.
At some point, we decided to take a 48-hour session to brainstorm and note down all the obstacles and opportunities that we should handle as soon as possible. We were very enthusiastic and jotted down as much as we could, even though we didn't have enough space left on the board. This quickly escalated until we used up all of our glass windows as a whiteboard. Finally, we moved everything over to a Google Sheet, where we organized and segmented it into different categories such as: high/low impact, high/low impact, high/low cost, etc. This made it easier for us to pick the low-hanging fruits to focus on.
Running an 100% remote business isn't always easy
The remote work culture has been something that we embraced from the start. It's efficient, it's convenient, but it definitely also comes with a lot of challenges. As I am a social person, I like to meet people face-to-face, give live presentations and help people directly. When running a 100% remote business, it's hard to oversee all the work activities and coordinate tasks. That's why we came up with a few solutions that helped to bridge these gaps.
First of all, we made SOPs and workflows for every department that provided all the necessary information to make sure that everyone had the right tools to do their job as well as possible.
Another important element in our success story, is using our platform to empower our designers. In this use case, we made a dashboard to show which team was working on which client and how busy they were. This gives us the insight to make the right decisions in terms of resource allocation and finding new talents.
Income vs Expenses
Another challenging obstacle for start-ups is that in the scaling phase, their expenses are significantly growing. You feel like this is the point that you should start investing more into people, marketing, sales, etc. However, when you start collecting more data and then look at a YoY level, you can identify that it can be just a short spike in terms of revenue. For start-ups, it's extremely hard to make accurate revenue projections, and making wrong calculations can mean the end for your business. By following the practices of Profit First, we made some radical shifts in our thinking in how we should spend our budget. Which makes the success of our company more definite.
Adapt to your Market Needs
As the creative space is evolving, we noticed that more and more clients were asking for new tools. There were 2 options:
1) Ignore it and just keep doing what you are doing
2) Adapt and fulfill the needs of your customers
Of course, we picked the second option, since we noticed a high need for these new tools from prospects and current clients. Instead of offering it directly, we provided a whole new educational program for our designers that prepared them for the new tools.

The final thought I'd like to share is to focus on the 4% of your business that really makes a difference. In other words, don't get sidetracked by all the other activities that may come up on a daily basis.
What's upcoming for 2022
As I don't want to make this article too long and focus more on our learnings from the last year, I still would like to give a small teaser of what we will launch in 2022.
White-label graphic design solution – The possibility to use our platform, fully branded with your own design and hosted on your own website
Integration with Canva & Figma – Integrating Canva & Figma to directly start editing and commenting via our platform
API Integrations – Receive notifications and send requests from your favorite tools such as Slack, Trello, Teams, Asana, and more
Expansion into more countries – Setting up local offices around the globe (be where your customers are)
DotYeti Academy – Adding tons of new courses for upcoming creative talents, which helps in completing our Yeti-ecosystem
And much… much more!

What are we looking for
As a growing company, we are always on the lookout for aspiring talents who can help get our business to the next level. Take a look at positions that we have open at this moment:
Don't feel shy to send an email to: [email protected]
Special thanks to…
To close off this article, I would like to give a special thank you to all the people who were involved in making DotYeti what it is today.
Our clients

– Thanks for believing in what we do. We always listen to you, adapt, and take learnings from your feedback to constantly improve 

Gregory

– My second wife and partner in crime, who manages to drive revenue numbers and growth, while having twin babies on the way. You're doing an amazing job! Keep it up. 

Marc & Kris –

Our joyful HR & recruitment killer combo, who make sure that we have the right people for the right job.

Ezra

– Our rock-solid Operations Manager, who is always there to fill in the gaps

Angela & Dwight

– Our engaging and talkative Account Managers, who make sure that the clients get what they want.

Alex, Bea & Carl Glen

– Our highly reliable and excellent Art Directors who check that every design is the best possible creative interpretation of a client's idea

Vlad & Roman

– The agile development team, who work around the clock to ensure the platform is running smoothly

Amadeo

– Who laid the groundwork and foundation for the new platform. 

Jasmine, Quina, Nat & Marvin

– The everlasting marketing team that pushes everything in the right direction. 

All the hard-working designers – Sign-up and you get the chance to meet them all 😉
All the others involved

– Thank you to my loving fiancé Chris, our business partners, angel investors, and all the other people who believed in us from the start. 
Wishing everyone an excellent 2022. Let's make it happen (again)! ✨
Cheers, 
PS. If you haven't signed up, make sure you take a peek into our platform.