Social media graphic design is one of the most effective and powerful marketing tools there is today. Although, as effective as social media graphic design is, it's also very competitive. 
Top brands like GoPro, Wendy's, Dove, Spotify, and Starbucks are all prominent names that have an established online presence and a high social media following. How did they do it? It's simple.
Aside from posting relatable content, nearly-perfect products and services, they also used social media graphic design as a marketing tool and not just an afterthought.
In this article, we will be discussing what social media graphic design is and how to use them. 
Why does Social Media Graphic Design Matter?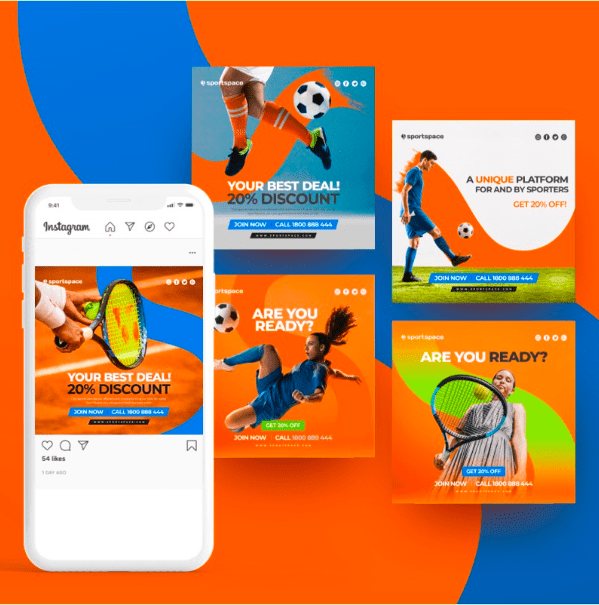 If you think about it, people all over the world are using social media to communicate every day. Superior business leaders, especially marketers, should know how important and crucial it is for your products and services to be a part of the conversation. 
A strong business image online exhibits the unique persona of your brand and helps create a personal connection between your business, customers, and leads.
The more engaging it appears, the more attraction it gets. 
Creating a Social Media Design that Convert 
There are countless ways to see success on social media.
Whether it's by the number of likes or the mind-blowing amount of shares your post got, the most important engagement of all is when the viewer actually bought the product or subscribed to the service. 
Likes and shares are great for establishing the brands' name and identity, however, earning from it at the same time is also important.
Here are a few factors you should consider when you're posting on social media:
1. Present a Professional Brand Image 
The image you display defines your brands' reputation. In some cases, the first image your customers will see is your profile picture or avatar.
Just like how logos are designed to represent the entire company and brand, the profile picture or avatar you use represents your company's page online. 
2. Never Underestimate the Power of Cover Photos 
Facebook cover photos are a branding opportunity marketers shouldn't miss. Since we know that Facebook is one of the most used social media platforms there is, displaying a cover photo that compliments your profile image and identity is a great tactic to establish your brand online. 
Why? Because the most prominent element every Facebook Business page has is its cover photo. It literally dominates the majority of the page and naturally attracts the attention of the viewer without even trying. 
3. Business Page Layout 
The aim of a page layout is to present information in a systematic and understandable way. Although it's not related to social media graphic design, it's still an essential element that highlights the important information about your business without confusing your customers and potential clients. 
Every business page should implement a well-designed layout to maximize the effectiveness of the overall operation of the page.
Tips to Boost your Online Presence 
1. Know Who your Market is
No, you can't target every market there is. Inexperienced marketers would naturally think that targeting every single market there is, is a good thing. That's ambitious, yes for sure. But can it benefit your business? No, not at all. 
Marketers who are in the business for years know that choosing one primary target and one secondary market is the best way to sell a product or service. Knowing who your market is will give you a competitive advantage when it comes to promoting your product and designing your social media graphics.  
Benefits that comes with knowing your target market: 
Increase return on your investment and sales

Fully understand who your competitors really are

Create strategies that will strengthen your brand image on social media 

Capture the attention of your market with intentional social media graphic designs that appeal to them 
2. Content Diversity is a MUST
Posting the same content over and over again will not take you far if you're trying to promote your brand on social media. Start with a solid social media strategy by incorporating content such as customer feedback, what happens behind the scenes, promotional materials, and other educational content that feeds the curiosity of your audience. 
Posting a variety of content with different social media graphic designs can create business opportunities for your company. Just make sure that the content you're posting is in line with your brand's persona and useful to your audience. 
3. Keep it Simple and Creative 
The social media graphic design you create should help you communicate your message clearly and persuade your audience to purchase your products and services over your competition.
Providing a high-quality design and content will help you attract the right audience. Make sure that it's simple, creative, and easy to understand. Keep up with the latest trends that excite your audience and promote your product or services as the best solution to their problem. 
Unlimited Graphic Designs with DotYeti 
Creating a social media graphic design that converts can be tricky to do on your own. Here at DotYeti, we have several creative minds that can generate outstanding designs that we're sure will help promote your business in every way possible! 
Check out our portfolio and Why Us page to see how our illustrators have delivered messages with heart time and time again. You can visit our pricing page to see which design package is just what you need.
Not sure which one to go for? Feel free to reach out to a Yeti today to plan out a custom package—just for you.