Have a website? If so, have you started creating or using UI kits for web design in Asia? If it's a yes then you're off to a great start. If not, it might be time to give it a reconsideration.
Why? UI Kits are a great tool that makes your design process a whole lot easier. It's able to streamline it helping you save a lot of time and money. At the same time, your designs just look and work a lot better.
What is an UI Kit?
UI stands for user interface so it's a user interface kit. By that, it means that it's a collection of graphics and other resources. These will aid the designer as they go along in building their UI for their own applications.
These usually have user interface components that are meaningful and functional to users. What are those? These are usually widgets, buttons, progress bars, checkboxes, and other buttons for navigation. The kit may also have a framework to make it easier to understand your site or app's layout. Basically, it can go from something very basic to something very detailed, depending on how much detail you want your UI to be.
Why do you need it?
There's an ending list of great reasons to employ the UI Kit in your own design process. We'll get into them a lot more below but the most important thing is that they make your design process a whole lot easier.
1 / Time Saver
Save time because it can simplify the process of finding a solution to your design problems. When you're creating a design for a client or for your own, you can just keep searching and creating all these elements without having a vision. Without that, it's just a novel design with no actual end goal which is not a great way to start anything.
The UI kit can connect these design ideas in an efficient way, You can avoid wasting time on creating a design that won't go anywhere. Instead of starting from scratch, your UI kit will already provide you a plethora of elements that you can use immediately. It's all about finding one you like and sticking with it. You can just customize it depending on the project but overall, it's already saved you a lot of time in the design process.
2 / Increase Financial Savings
When it comes to designing, time is the greatest value in money. If you take so many hours designing UI elements for every project you undertake, those hours all go to waste money-wise as well. If you just used a UI kit from the start, you could've boosted your time and productivity which means your money as well.
Finishing projects quickly is also a great way to get ahead of competitors. You can get noticed with faster updates so more people will avail of your product or service.
3 / Boost productivity and priorities
It's a delight for designers to build things from scratch as it's a field that thrives on creativity and innovation. At the same time, this fascination can lead to sacrificing more important parts of the process.
With a UI kit, you can lessen the creative focus you give to smaller and less significant parts of the design. You can use this creative juice for higher impact tasks like the large and overall vision. You have the time to produce a quality designs for the things that truly matter.
4 / Easy edits
A big advantage you have when you use UI Kits is the editing of design parts is a much easier process. You can suddenly decide to change up the color scheme of the site because you feel that it would make more sense for the brand. This would take so much time and effort with no UI kit as you have to change the entire site code.
With your UI kit, you can just make this change by editing a few layers so you have a better site in little time and effort.
Our own EOI Digital UI Kit
With this part, we'll share from personal experience on how we built our own UI kit. We started on determining what was the EOI look. From there, we determined its key brand which is creative, technological and balanced. Our aim from the start was to create a well balanced and system-wide user experience and our basis was done though a joint set of components, modules and animations.
Responsive UI
We made our UI responsive. What does that mean? It means we created a display that can be adapted to any device creates a positive user interfaces that is consistent across all systems. It makes our applications and websites accessible to as many users as possible. We used the following principles in our kit:
Grid
We used the grid for the layout to make it easy to understand for users while presenting the content in an organized manner. The flexible and optional grid consists of 12 columns and can be nested. The spacing between the columns is 0.25 rem (one-quarter of the basic type size). The maximum width is determined for each project.
Performance
You have to keep in mind that your website is accessed all over the world using varying devices. In order to create pages that are accessible to everyone, it is necessary to allow for poor devices and their internet access. The question that must always be asked is whether the website is impressive on an older smartphone rather than a new one. You also have to consider a poor internet connection and high data costs.
Content and Functions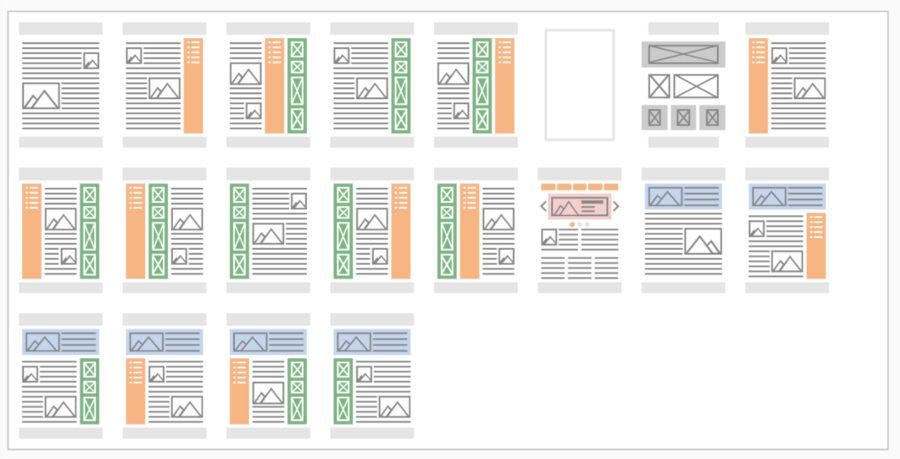 Content and functions are offered in equal measure on all devices. This is why it should be optimized for display and available for use in differing resolutions. No functions are omitted on mobile end devices: after all, resolution cannot be the only factor in deciding what the user wants. The only exceptions here are devices with very limited facilities such as smartwatches and of course native mobile applications.
Parameters
Always remember that responsive design offers more possibilities than just adaptations to horizontal breakpoints. Every piece of information and parameter relating to a screen is to be incorporated into the design. From the width, height, and aspect ratio to device orientation, all these are vital to creating a satisfying user experience.
Flexibility
As mentioned before, this will be accessible to all kinds of devices so it's important to keep it flexible. Videos or images are adapted to the layout depending on the viewport size. In order to display content responsively, it must be prepared in such a way that the size can easily be changed and there is sufficient space available to trim the size of the visual material.
UI Kits Asia is integral to your marketing. You want your audience to have a friendly experience navigating your site and platform. Don't make it hard for them to do that. Need some help making your UI friendly and easy to navigate? DotYeti offers unlimited graphic services for your every creative need.
Sign up today and get started for as low as $449 a month!