Affordable, Efficient & Scalable Creativity
This is how we get your creative work done
2. Our designers start working
4. Receive finished designs
1.
Submit your request
Fill out a request form to help our designers understand your design project requirements and creative vision.
Specify the product category/categories.
Attach essential files needed for the project.
Note the file types you'd like to receive.
What type of designs can I request?
We cover an extensive list of graphic design categories. Logos, web designs, app designs, posters and advertising content, marketing materials, and more, are all handled by our design teams.
How long will it take for me to receive a draft?
Our designers will deliver your designs within 48 hours depending on the complexity of your design brief.
2.
Get assigned to the best designer
Our platform will automatically assign you to most suitable designer for your project. Use our direct chat function and on-image feedback tool for efficient and transparent communication.
Provide as much information as possible. More = better!
Creating starts the moment they receive the request.
Do your designers have a lot of experience?
Our designers have strong skillsets and a wide range of capabilities that have been honed over years working in the industry. We vet and select only the top 5% of graphic designers to join our team.
How do you choose your designers for a project?
We employ rigorous training modules and formal tests that the designers complete before they can be assigned to any requested project. We make sure to match you with the most suitable designer who is readily equipped to elevate your designs.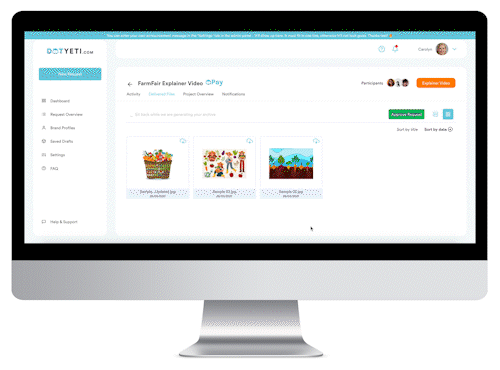 3.
Review drafts and provide feedback
You'll hear from our designers within 48 hours. Once you have received your drafts, review them and provide feedback for any revisions you'd like addressed.
Unlimited revisions. No additional fees.
Comment directly onto image drafts.
How long do revisions usually take?
Revisions can be quite speedy! In most cases, we will deliver the final file within 48 hours.
What if I want to swap/change designers?
If you feel unsatisfied, just let us know. We'll swap out designers to ensure a better match.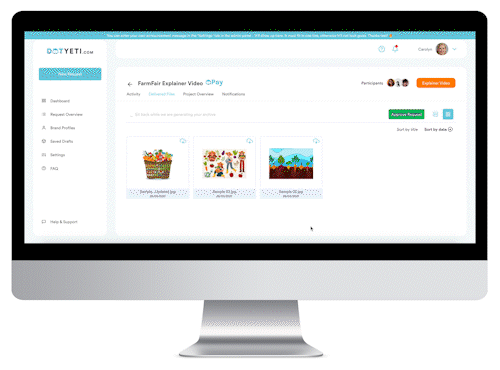 4.
Download and receive files instantly
Woohoo! Conveniently download all your files instantly with a single click. Don't forget to tell our designers how happy you are! It'll make them smile too.
You can opt to ask for the core files, if required
Don't forget to note and check the file type.
Are my files stored in my dashboard?
Yes. All your design projects and assets are easily accessible from our centralized dashboard
What file types are available for download?
We support a wide variety of file types! Choose which ones you'd like to receive by informing your designer.
Who is this suitable for?
Whether you're a marketing agency, marketing team, start-up, small-business or a multinational company, we have a design plan that scales with your business growth.
100s of companies trust DotYeti to create effective visuals that elevate their marketing campaigns and strengthens their branding. We've helped Growth, Sales, Marketing and Product teams save up to $38,080 per year on unnecessary design costs.
This is graphic design like you've never experienced it before. We're opening up the world of graphic design to everyone. 
For more information check out our solutions page.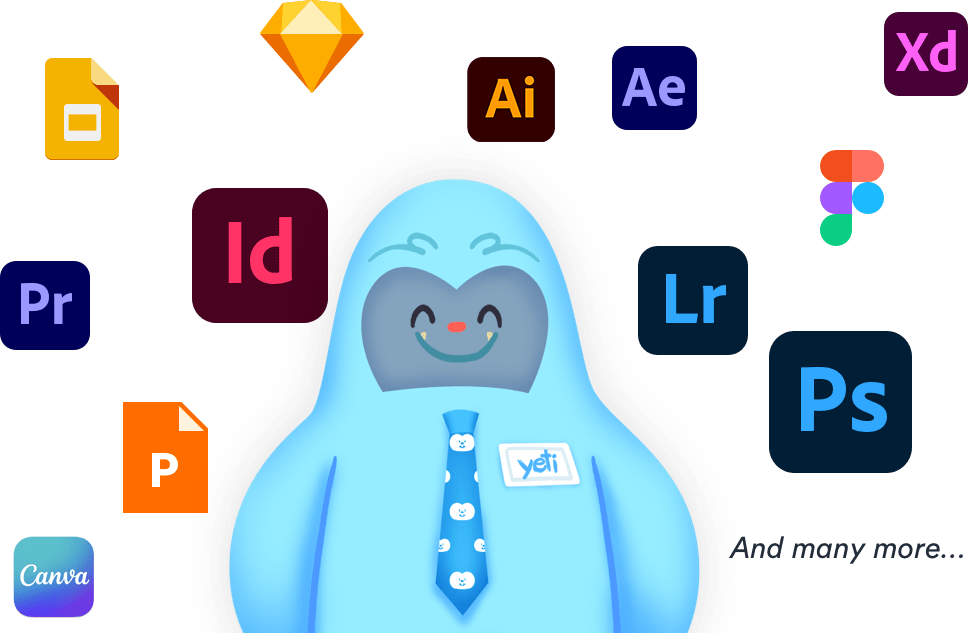 Still not sure if it's for you?
Choose the best plan for you
We offer 3 different design plans: Basic, Premium and Royal. The Basic plan covers the design essentials, while our Premium and Royal plans bring substantially more creative freedom and flexibility for businesses who are looking to expand their design output.
For the Basic plan, we process 1 project at a time and focus on concise, simpler designs. For the Premium plan, you may choose to process 2 projects at a time, request more advanced design categories and you will get assigned a dedicated account manager. For our creme-de-la-creme Royal plan, we provide a full on-demand creative team that supports a backlog of design requests.
Want to get a full grasp of what we can offer?
Check out all of our design categories.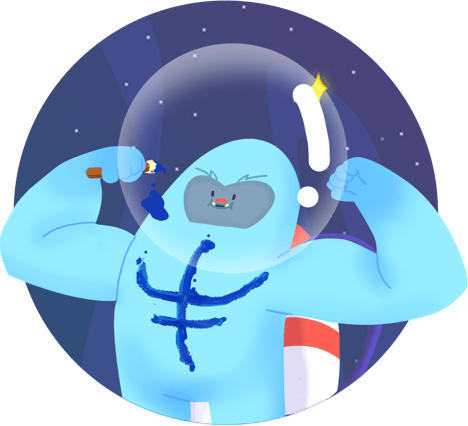 Social Media Graphics
Banners
Advertisement
Print Media
Icons
Ecommerce Graphics
T-shirt Graphics
Newsletters
Merchandise
Light Photo Editing
Social Media Graphics
Banners
Advertisement
Print Media
Icons
Ecommerce Graphics
T-shirt Graphics
Newsletters
Merchandise
Light Photo Editing
Logos
Custom Illustrations
Presentation Designs
Infographics
Animated Gifs
Photo Manipulation
E-book/White-paper design
Packaging & labels
Branding
Social Media Graphics
Banners
Advertisement
Print Media
Icons
Ecommerce Graphics
T-shirt Graphics
Newsletters
Merchandise
Light Photo Editing
Logos
Custom Illustrations
Presentation Designs
Infographics
Animated Gifs
Photo Manipulation
E-book/White-paper design
Packaging & labels
Branding
Expert Branding
Video Editing
Animations
Motion Graphics
Explainer Videos
Social Media Stories
Landing Page Design
Website Design
NFT Artwork Design
FAQs
Have some questions? Try finding the answer below!
If you'd like more support, simply contact us by sending an email to: [email protected].
Are there any hidden fees?
We are committed to maintaining a transparent pricing model- this means absolutely no hidden fees. The package price is what you pay on a monthly basis, and includes any applicable taxes and fees.  
Hmm...do I really get unlimited designs?
Yes! You read that right. You really get unlimited designs and revisions for a flat monthly rate. You can request as many revisions, and provide feedback using our on-image feedback tool, until you are 100% satisfied. Depending on your chosen plan, we'll either work on one or two requests at a time and deliver within 48 hours.
What does processing 1 or 2 projects at a time mean?
Great question! For our Basic plan, a designers will work on 1 request at a time, until approval by you. For our Premium and Royal plans, 2 designers will be assigned to work on 2 requests at the same time, until approval by you. You can submit unlimited design requests each month for all our plans.
What does monthly mean?
Our monthly subscriptions are renewable month-to-month. You have the freedom to upscale, downscale or cancel whenever you want depending on your creative needs.
Do you accept check, cash, money transfer, or Paypal?
We currently only accept a verified credit or debit card as forms of payment. We do not accept check, cash, money transfer, or Paypal. 
Is this a long-term contract?
For our monthly contracts, you are enrolled on a month-to-month membership that can be changed or canceled anytime. For teams with larger design projects going for the more cost-effective 12-month membership, this subscription will be active for one full year. 
What if I need fast revisions for my designs?
We've carefully discussed the painpoints experienced by our clients with other graphic design alternatives, and purposefully designed a platform that offers a comprehensive, tech-enabled solution. One of the key features is a direct chat function that optimizes collaboration with our in-house designers. You will also be assigned a Personal Account Manager to help coordinate your graphic design team. It's simple, fast and hassle-free.
Can I change my designer?
Once you've chosen a plan, we'll organize an on-boarding call to better understand your vision and creative requirements. We'll then carefully review your design brief and assign you to a dedicated designer who best matches your style and has worked on similar projects. Of course, you also have the flexibility to switch to another designer depending on your preference. 
How adaptable are your designers to tight deadlines?
We can deliver most designs within 48 hours. More complex designs can take longer but the delivery date will always be clearly communicated on the platform. We understand that sometimes, you may have tight deadlines to meet, and we are happy to reasonably accommodate wherever we can. Please give our team a heads up in advance.
Will time difference be an issue?
As an Always On company, our creative teams work in 2 shifts to accommodate clients from all corners of the world. Your project will be assigned to designers who are most aligned with your timezone.
Are your designers experienced?
All our designers have at least 3 years experience under their belt and undergo rigorous tests before joining the team. We select the top 5% of designers, who also go through an extensive training process, to ensure that you are consistently receiving high quality work.
What is a brand profile?
Our platform makes it possible to already upload all the brand assets to your brand profile before hand. This makes it possible to design for multiple brands.
Need us to show you around?
Book a demo with one of our experts