Startup businesses should never underestimate the wonders graphic designs can do for a business. But hey, we get it.
When you are working with a tight-cut budget, investing in creative content may not be the first thing that pops into your head. However, we do live in a highly visual digital world. Visual identity and witty content are quintessential to communicating your brand effectively.
If you want to manufacture a brand that will last a lifetime, graphic designs need to be a part of your plan. Here is why graphic design and branding for startups is important.
Take Note: 5 Reasons Why Graphic Design is Important for Startup Businesses
1. Creates Visual Brand Identity
Logo, Web Design, Packaging, Social Media Content
The visible elements of your brand like the color, typography, and overall design of your logo, web design, packaging, and social media content need to be powerful enough to inform and eventually persuade the public to buy from you. 
The main purpose of these design elements is for potential customers to easily recognize your brand right from the get-go and to set it apart from the competition. There are two factors that make or break your brand design: 
a.) Simplicity
The simpler it is, the better. Take Coca-Cola for example. Their logo and packaging are not cluttered with words or objects. It's plain, and clear, and it has a huge impact on their audience. Your customers need a symbol that they can easily remember when they think of your product or service.
b.) Minimalist Palette 
Choosing the right color palette to represent your brand matters and shouldn't be done impulsively. Color has the ability to appeal to the crowd and help you stand-out. To get a positive emotional response from the public, strategic planning is a must.  
All of this might sound intimidating, but graphic design services are available online to help solve this problem for you. With the right designers, you can construct the visual identity of your business through quality design work. Investing in the ideal services can also help you understand what brand you're trying to shape for yourself.
2. First Impressions are Crucial
Whether it's through your logo, packaging, online ad, or if someone shares your content on social media,  the first encounter customers have with your business is through your visuals. If your brand is poorly presented, people will immediately judge your brand in a negative way. That's why branding for startups is often an invaluable investment. 
For you to make a great impression, make sure that you invest in making your visuals as pleasing and entertaining as possible. Graphic design services have special packages that cater to all of your creative needs. Illustrations, 3D animation, motion graphics — all of this can be customized to fit your brand.

3. Personalized Advertisements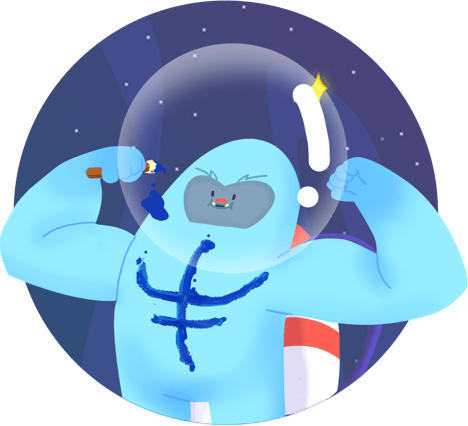 Strategically presenting your brand through inventive ads makes your business more friendly and interesting to the public. If the ad is hilarious or relatable, people will start talking about it — and that's a good thing! Word-of-mouth is the most effective advertising form there is. 
Creative and inspiring online ads are everywhere. Fast-food chains like McDonald's, Burger King, Dairy Queen, and Wendy's always had a keen eye for creative marketing. In order for your ads to be successful, connect with your audience through comical or heart-warming visuals with the help of an innovative team from design services. 
4. Increases Online Familiarity 
If you search for a brand or keywords like "great food," "organic face wash," or "cheap books online" on Google, you would automatically be shown a bunch of images, videos, and sites that match what you are looking for. 
This is why graphic designs are important — even if you're just starting out, your logo, website, or your social media page will immediately pop up once it's searched online. Even if your services aren't exactly what they were looking for, there is still a chance that it will be brought up if it matches the query. 
If your brand does appear, you only have a few seconds to impress the reader. The design of your logo or website should be professional and persuasive. Hiring a graphic design service will help you stand out from the crowd and tell your story more effectively through trendy visuals. 
5. Enhances Overall Visual Marketing
Being consistent with the content you produce shows that you are extremely professional and trustworthy. Imagine posting on social media an image or a video that has different fonts, colors, and other elements every other day. The lack of consistency will confuse and encourage people to forget your brand. 
Studies show that information on anything is retained 65% more in the human brain when images are added. The purpose of your visuals is to make your brand unique and set you apart from the competition. But if your branding keeps changing, people will completely forget about your business. 
Graphic design services will help you provide your customers with well-structured content that is in-line with your brand identity. You wouldn't have to worry about producing inconsistent content. 
Unlimited Design with DotYeti
We know that starting a business is hard and investing in a graphic designer is even harder. At DotYeti, we care about your mission and our goal is to provide you with unique and tremendous graphic designs that are efficient and affordable. Feel free to check what package works well for you!